Here's a bunch of photos - Shannon took most of them. I just figured some of you would want to know what some of the people I think about look like. (By some standards, I have a very loose definition of people.) With no more ado, on with the show!



Me. 'Nuff said. Back to the home page.





Leigh Ann, Elton, and Billie (ain't she gorgeous!) of Annwn - good band, great people.





Heather Alexander and Phil Obermarck





Nyssa is a cat that is currently living with me.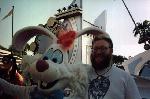 I went to Disneyland last year. I had fun!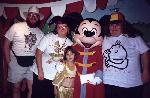 Here's a photo of the whole gang of us. These two Disneyland pictures are dedicated to Neelia.





Shannon aka the photographer. A strange person and good friend.